Best Bowie Knife to buy, Take a start and Buy Original Bowie Knife Now
"BOWIE KNIFE" is considered best self defense gear to keep with you everywhere. Some major points always  keep in mind while buying a best bowie knife for your personal use or buying for your loved ones. It is up to you how you are preparing yourself to use a high quality hand made knife. You may want to use it as a tactical gear for self defense, combating, decorating, hunting, and skinning purposes, or to gift someone. Before diving into details of the aspects to consider before buying a bowie, lets have a look on some important usages of the bowie knife.
important usages of the bowie knives
Bowie Knife as Self Defense Gear:
Bowie knives are really good for self-defense if the need arises at any time in any situation. Different countries having their respective laws may restrict you to carry a long shaped Bowie with you openly in public places, but they are really great if you are out in the woods and need to defend yourself. Bowie knife can be used quite effectively for self-defense in open areas one to one fight, in camping & forest. In fact, self-defense and fighting were one of the main things that Bowie knives have been used to do throughout the history & now a days also. What does it meant you can not defend yourself in public places? Their are other short blade knives which can be used in public places; like tactical folding knives are used .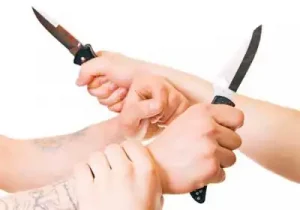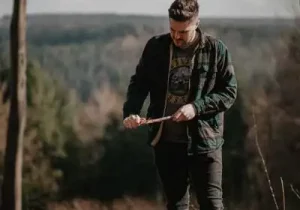 Bowie Knife as Chopping Agent:
Owing a large blade knife? you have to consider what your knife is actually able to do in real life, how durable and well made your knife is, what the blade & handle material is used in its constructive, what is the blade hardness resulted from Temper? Combining all these factor's score you can decide either your Bowie can be used for light or heavy Chopping purpose. Carrying a well designed & super finished bowie you are out in the woods; it is simple to harvest wood because you aren't restricted to loose or super-thin wood. You are no more dependent to Axe for chopping small pieces but don't plan to cut a tree with your Bowie 🙂
Factors to count in when buying a new bowie...
Blade Material:
Most important element for the durability of the best Bowie knife is to check the constructive material of the blade. Stainless Steel & carbon Steel are widely used in Bowie Blades. Choice is yours, either you are preferring a stainless steel or carbon mixture? Obviously, carbon steel blades needs more care to prevent it from rust. While carrying a bowie with you, you are ready to use it in multiple ways for different tasks. There comes the size of the knife, which matters a lot when a bladesmith is deciding the material of the blade. Carrying and holding a large blade size knife requires some standards for the blade; Blade Hardness, Sharp Edges, Corrosion & Serration.
To gather all the qualities a knife blade must hold, there comes the carbon steel as a best choice; which can provide all the qualities a blade needs in the shape of hardness, softness & sharpness. The procedure of mixing two metals (hard & soft) in carbon steel is outcome of Damascus; Perfect Blade Material to choose for a Bowie Knife
Blade Size:
Bowie enthusiasts prefer to use more than 9 inch long blade bowie knife. Market is full with different blade size bowies but the studies from different knife forums shows that the ideal blade size is large blade. The reason behind this large blade size is the  working we are going to take with this knife. Use it freely for chopping, batoning, small wood works and self defense. You know the edge of this large size blade is extra sharp? Consider the blade size while purchasing a new bowie.
Blade Design:
If you are a knife user then you must know about blade types/designs. There are 3 most common blade designs used for almost any knife; Clip Point Blade, Drop Point Blade & Straight Spine. Finally, the blade design plays an important role for choosing the right bowie knife. Clip point blades are the best choice for good tip control so is the reason behind selecting classic bowies. Another reason to take care of blade design is its weight; which can smoothly operate the knife in your hands. If the knife is well designed; must be lighter in weight to perform every task quickly.
Handle Material:
When choosing a new knife, think about the second half most important part of the knife. Blade is the upper part and the handle used to grip it well. Knife handle design and material fascinates you more to operate or present to someone. Most commonly used handle materials includes Micarta, Resin, Bone, G10, Kraton & Stag. Stag is most expensive handle material to used for bowies. Although, natural wood also used for low cost furnished bowie knives but less attractive and lack of control and grip on handle.
When it comes to sharpen your bowie or other general usage knife, follow these tips.
History of the Bowie Knife:
There are many tales about the history and invention of the Bowie Knife, the most famous in history of 1827, Rezin Bowie, who was James Bowie's brother and an Arkansas plantation owner at that time, was attacked by a bull and, in self-defense, he was forced to draw his belt knife and attempt to stab the bull in the skull. But, the knife that he carried at the time proved ineffective for the job because it was unable to pierce the bull's head but Rezin did manage to survive the attack and then he thought of manufacturing a more reliable knife. He commissioned a local blacksmith named James Black to grind down an old file to create a large, single-edged, knife with a blade that measured over 11 inch in length and 2 inch in width. It is widely believed that this is the knife that Rezin gave to his brother James before the infamous sandbar fight. This knife was much larger than was commonly carried by men of the time and was supposed to be very unique because most personal defense knives of the that times.
Back in 1830, above said knife gain so much popularity in America that there were hundreds of factories producing bowie knives to fulfill the increasing demand in the society. After the battle of the sandbar, Americans praised this tool so much and rushed the markets to grab one for their personal possession. Not only USA, England also produced these knives in bulk and rushed the American ports with their prepared knives to sell in their market. Soon after this spell, the nation turned their interest towards redesigned knives.
For the sake of the history lovers, Arkansas museum preserves a Knife in a vintage box which is claimed to be the original Bowie Knife of that times. It has been reported in many articles and books by many authors. For a detailed reference of bowie history, follow this link on Wikipedia.
Common Questions a user may have before buying a Bowie Knife:
Final Words…..
After reading up a lot about Bowies now lets wind up the topic and once again remind you some important points to keep in mind before buying a good sharp bowie knife.
Never compromise on the Bowie Making Procedure, check if that is hand made or machine made. Try to prefer hand made knives for better results.
Choose the Blade size, design & shape according to your needs.
Check the Handle Material, Size & Finishing if you want more reliable and solid grip on the knife when practically using a bowie.
Compare different features like Leather Sheath Included or not, offering free shipping, giving some discounts, smooth payment processing, etc…